Cecelia and the Blue Mountain Boy--The Play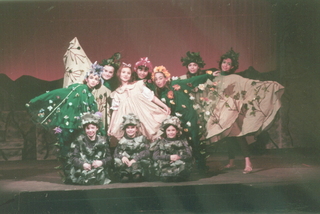 I wrote this play because the children's novel it is based on seems so perfect for a musical production. The theme of the story is the power of music. There are a few changes from the short children's novel, but basically, the play script follows the story as written. In the play, however, I bring alive rocks, trees and flowers.

Location: Chester, a small Appalachian town and surrounding mountains in 1940's.



I wrote all the songs, except for a few traditional
Appalachian fiddle tunes which are performed during the final festival scene. I wrote hymns following the pattern of ones I used to sing, or hear sung, in small back country churches in West Virginia. Other songs are more original, expressing the feeling needed for Cecelia, or the tone of the scene. Since the Parkersburg production, I have worked more on the music score with the help of David Boyer, a musician who has directed several musical plays. He has memories of roaming the hills of his own very real "Blue Mountain" country,

In order of appearance

Four Old Men................Residents of Chester
Mr. Humphrey................A widower who lives in Chester
Laura.......................Mr. Humphrey's 12-year-old daughter
Shirley.....................Humphrey's 14-year-old daughter
Mrs. Wood...................Resident of Chester
Townspeople.................About 4 other residents of Chester
Cecelia.....................Mr. Humphrey's youngest daughter (about 10)
Preacher Dawson.............A local minister
Small boys and girls........3 or 4 children of Chester
A mother....................Resident of Chester
Rocks, Trees and Flowers ...Represented by about 5 actors
Woman Who Digs Potatoes.....Woman who lives on Blue Mountain
The Blue Mountain Boy.......A fiddler who lives on Blue Mountain
Mrs. Dawson.................A piano teacher
John Morgan.................An old fiddler
Man with an instrument......A festival participant
Woman with an instrument....A festival participant
Davy Mullins................A young fiddler from Chester
Musicians...................Music festival participants Nathan Beard................A friend of Mr. Humphrey
Master of Ceremonies........MC for Music Festival
Molly Kinkaid...............Young fiddler
Jimmy Simpson ..............Young fiddler
Barbershop Quartet members..(Including Mr. Humphrey and Nathan Beard)